98 Cards Review
August 8, 2018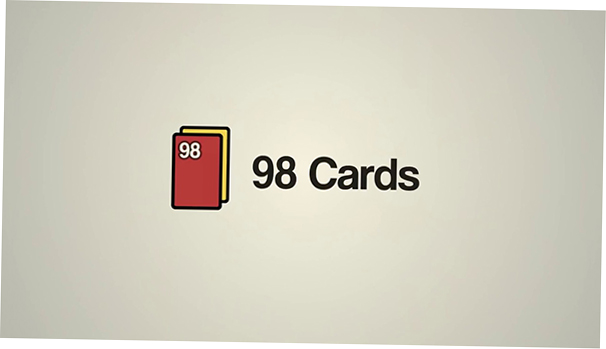 Price: FREE
Ads: yes
In-app purchases: no
98 Cards is simple to learn and quick to addict.
The premise is this: you have 98 cards, 2-99. You have four discard piles: 2 for ascending cards, and 2 for descending cards.
You are dealt 6 cards at a time, face up.
Your one salvation here is a single rule. The only exception to discarding in sequence is this: You may discard a card lower by 10 in the ascending pile, or a card higher by 10 in the descending pile.
The goal: discard all 98 cards in the 4 piles. The faster you do this, the higher your score.
Not as easy as it sounds for an android game.
So far I've gotten close to discarding all of the cards only 2 or 3 times. My top score is only in the 28th percentile of all time scores.
But because you're only able to see 6 cards at a time, you can't really beat yourself up over it.
So you just try again.
And again.
After all, I didn't start with a score in the 28th percentile.
The Thing about Single-Player Card Games
Single-player card games, like Solitaire, live on over generations for a combination of reasons:
– A good card game, whether for 1-player or more, should have different outcomes with every game.
–  The game has an achievable objective, which one can practice and gain skill in
– Cards are portable enough to take anywhere
98 Cards checks all the boxes for a well-developed single-player card game. The cards you're dealt are the variable, but you must gain the skills to play the cards as dealt in the best way possible.
Is 98 Cards a Phone Game Worth Downloading?
In my opinion as a puzzle gamer, absolutely! This game is simple to learn, and easy to pick up and put down. It's a challenging way to occupy otherwise unengaging time, such as standing in line, waiting at a doctor's office, or when you're just plain sick of crushing candy.
If you enjoy solitaire, you'll be all hearts for 98 Cards.
If you require variety in the puzzle you're trying to solve, you may bore of this quickly.
98 Cards Pros & Cons
Don't feel like reading my thoughts and feelings about this game? 
 Check out the pros and cons of 98 Cards:
Pros
Simple to learn
No time limits
Customizable colors
FREE TO PLAY – No ads or in-app purchases
Cons
Only 1 loophole
No challenge variations
If you've ever binge-played Spider Solitaire, you'll fall very quickly for 98 Cards. Download it today – no commitment necessary!
Let us know what you think about this single player card game in the comments. For some free tower defense check out Jamata Defense in the android app store.  If you like minecraft or angrybirds games, check out Herobrine vs. Mobs.