I Love Hue Review
July 1, 2018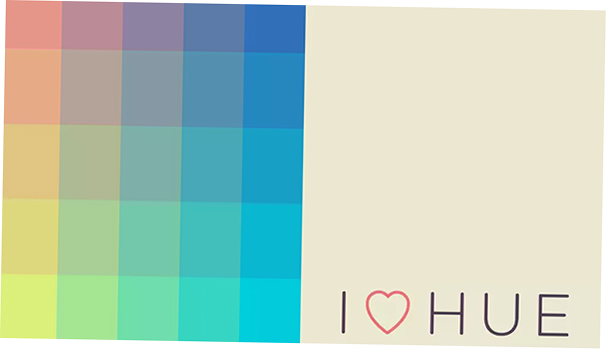 Price: FREE
Ads: yes
In-app purchases: yes
I Love Hue is a fascinating and challenging puzzle game for Android. Using tile-switching as the only technique, the player must swap tiles of different shades of color to complete a swatch of ombré rainbows.
The first ten levels ease the player into the game, training the eye into seeing the differences in shades by using single-transition swatches or more "freebie" spaces. (Some puzzles only require you to solve the borders of the swatch, for example.)
With each puzzle you solve, you earn a heart. You need a certain number of hearts to unlock the next set of puzzles. Usually you only need to beat half of a set to unlock the next. The first time I unlocked a new set, the Apprentice level, I got stuck trying the first swatch. I went back to the Beginner set of puzzles and went from there.
The game progresses through more challenging puzzles. This is accomplished easily because there are so many ways to manipulate a swatch. The range of colors, the saturation, how quickly (or slowly) the color progresses into another: all of these things can combine with the size of the playing field (or freebie spaces) to create an extensive variety of challenging puzzles.
But Wait… I Love Hue Has Ads and In-App Purchases, Right?
The bad news is that yes, I Love Hue has ads and in-app purchases. The good news is, you don't need to pay anything to enjoy this game – unless you despise ads of this sort soooo much that you have to pay to skip them.
Prisms in I Love Hue
In order to monetize gameplay, of course we are limited to only-so-many puzzle swatches a day… Unlllllleeeesss we pay the low-low price of time or money!
In I Love Hue, each puzzle costs a certain number of prisms. You get 12 prisms per day if you claim them by opening the app. If you run out of prisms – and if you like this game, you will – you have 3 options:
Wait as the 24-hour countdown clock continues to tick down until the moment when your patience will be rewarded with 12 new prisms
Watch a 15-30 second video ad, which you can mute
Pay up
There are 4 different Prism packs you can buy, ranging from $1.99 for 125 prisms, to $9.99 for 1200.
What if you want to get rid of ads, you ask? Buy a Prism pack! Yes, one price for both benefits – so whether you like it or not, you're getting your cake and paying to eat it, too.
I don't mind the occasional 5-second video between rounds here and there, or getting a free refill of 12 prisms for a 15-30 second ad, either. It really helps that these ads have a mute button, and really, what's 30 seconds when you're playing a cell phone game as foreground to old Dexter episodes on Netflix?
Is I Love Hue Good?
I am very into this puzzle game right now. It can be pretty tough, but never too taxing. It's like the Goldilocks of casual puzzle challenge-level. You can play it while you're on a break, watching TV, or riding the train. You won't be torn when you have to go back to real life, and you'll be comforted by its reliability when you're ready to come back to it. It's just right.
I Love Hue Pros & Cons
To get to the primary colors of this review:
Pros
Progressively challenging
Trains the eyes
Great for casual gaming
Addictive puzzling
Cons
Ads and in-app purchases
Requires keen perception of different shades of color
If you like puzzle games that exercise your brain, then give I Love Hue a try. As more of a word puzzle person, I was hesitant about downloading this app, but figured I'd give it a try. I'm happy I did – so no matter what kinda puzzle gamer you are, it's worth a try. Also worth a try; kill some mobs in Herobrine vs. Mobs or if you want no microtransactions  check out the games from FraischeGames.