Another Lost Phone: Laura's Story Android Game Review
March 24, 2018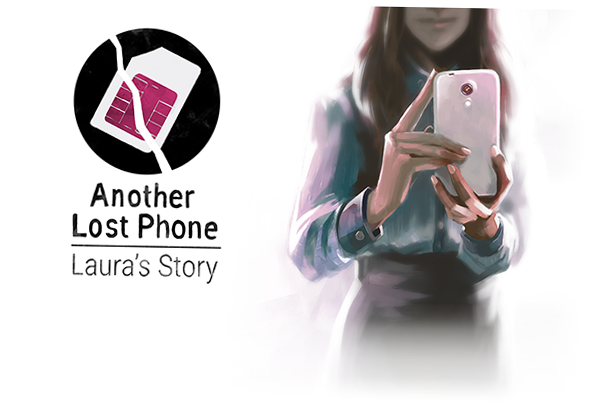 Price: $3.49
Ads: none
In-app purchases: none
Hey fam, welcome to my first Android Phone Game review on Another Lost Phone: Laura's Story. When I saw this app on our list of review items, I was intrigued. It sounded almost similar to I Am Innocent, another game I downloaded sometime in the summer, and was quickly addicted to.
It wasn't much different with 'Laura's' phone – I felt compelled to get down to the bottom of it.
But there's something different about this app – while the other requires a puzzle-busting component to 'hack' a good deal of the answers, Laura's Story is completely clue-less.
That is to say, it's 100% self-guided. Within a few minutes, I instantly felt like a detective. I was suddenly CSI-ing and Law & Order-ing and loving it. For those of you who don't know me (yet 😉 ), I am a crime story enthusiast – true or fiction. Basically, I felt like the only way to get anywhere was to keep looking.
This turns out to be thrilling, frustrating, and challenging.
I like to think my detective-ing skills would be pretty impressive, but start playing this, and you're going to realize that being a detective is a lot of reading. I mean EVERYTHING. There are no hints. You have to comb through all the evidence available to you to unlock more evidence. Trust me, L.A. Noir ain't got nothing on this.
And it takes some cleverness. This game presents different types of challenges. It differs from I Am Innocent in the different presentations of puzzles. There is nothing linear, it seems, to follow. At first.
The game first requires you to read all of this girl's text messages. From the nuances of the relationships, between a sister, colleagues, and her boyfriend, you can quickly tell something's afoot in Laura's relationship with her new beau. Your crimey-senses will tingle.
The text messages are just the beginning, though. And they make you work to find clues. This is what I find so intriguing about this – it's through the little hints you find in text messages and other Apps on the 'phone' that you have to draw conclusions about in order to unlock the next App.
For instance, to unlock the professional network app, 'PowerJob Messenger,' you need to identify contacts by their photo. This is no easy feat. You need to cross-reference photos, unlock emails, and there's even a clue in there that's a spoiler I won't give away. After several attempts and re-evaluation, I had to jump to conclusions to unlock this. But it worked!
This game requires persistence, though. At a certain point, you're going to be tempted to look outside for hints. Which makes me feel cheap. It makes me feel like a pathetic detective – but that's how well-done this game is.
I did. I did it and I'm ashamed! But the hint I found isn't the one I was expecting. (No spoilers, again.) So it led me in a different direction, but one that seems like a dead end.
Right now, I've gotten to the point of unlocking most of the apps you see here. I still don't know the purpose of those on the bottom row yet, nor have I found the passcode to unlock 1/2 of the SecuryChest. But I promise you, dear reader, that I will not quit.
At a certain point, you begin drawing conclusions about what you can only assume is a sinister reason that Laura's phone is lost. There are red herrings. You won't know what to truly think about her, or her relationships. And it makes you – if you're like me – all the more motivated to try and solve the mystery.
So is Another Lost Phone: Laura's Story a Great Game?
I give Another Lost Phone: Laura's Story 8/10 right now.
First of all, you're going to have to be a puzzle-solver of heightened-skill level to pursue this game. If you want something linear, this is going to frustrate you within minutes of downloading.
But, if you're anything like me, you'll instantly feel challenged and motivated. The reason I can't rate this game higher is simply that I am currently stuck. I am sleeping on this so I don't cheat (again) for a hint that obviously can be found in the game. I suspect it may be somewhere in her music files – because I play games without sound 98% of the time. Either way, dammit I want to figure it out!!!
Another Lost Phone: Laura's Story Pros & Cons
If you've skipped down here for the meat, here are the pros and cons of Laura's Story:
Pros
A real mystery-inspired game
Self-guided
No time constraints
FREE TO PLAY – No ads or in-app purchases
Cons
Non-linear
No hints
Difficult solving-level
Basically, not a game you can play on a bathroom break.
The game really tests your mettle, and I adore that about it. If you're impatient, or hated Myst in the '90s, this game isn't for you. It's for those willing to take the time to test their detective skills, and I believe there are many, many out there who can get a vicarious excitement out of Another Lost Phone.
Have you played Another Lost Phone: Laura's Story? What do you think? Did you figure it out so fast I look like a fool?
If you like turret defense/tower defense types of games check out Jamata Tower Defense. For more TD games, check out Google Play Store.